Exterior Painting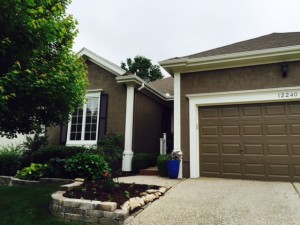 In the Midwest, there are many ways in which nature can easily take a toll on exterior paint and create problems on the outside of your property.   New exterior paint can make your home or office look better and last longer.  On the other hand, chipped or peeling paint can easily make your property vulnerable to mold, mildew and rot.  The pros at Johnson County Painting can help you enhance the look of your property as well as creating and retaining value.
Due to product quality, support, and options available, we prefer using Sherwin Williams paint but are certainly willing to discuss your paint preferences.  Try the Sherwin Williams Color Visualizer to plan your color scheme.
Improving Curb Appeal
There are lots of ways Johnson County Painting can easily help you boost the curb appeal of your property. The professionals at Johnson County Painting have the expertise to offer suggestions, tips, and deliver a finished project that can easily make the outside of your property look better than ever.   Our experienced team is trained and prepared to help you achieve the outcome you want.
Expert Painters
The experts from Johnson County Painting are focused on helping you improve the outside of your property or home to its original appearance, or into something completely new and different! Owner Larry Ammerman and his son, Matt, monitor every project from start to finish to ensure their high quality standards. Call the experts at Johnson County Painting today to get a free quote on your exterior painting projects.
Exterior Painting Services …
Powerwashing
Hand Cleaning
Caulking
Surface Priming
Brush/Roll/Spray Painting
Sealing and Waterproofing
Rotten Wood Repair Work
Woodworking
Home Window Glazing
Window/Door Repair Work
Deck Repair/Staining
Visit our Residential Gallery to see pictures of our work.
Visit our Commercial Gallery to see pictures of our work.